At school Willem Cornelis Rip made drawings on his slate. His parents knew there son was very gifted, but there were afraid when he choose an artistic life, his life is not going to be easy. So they didn't encourage him. His grandmother knew her grandson wanted a artistic life very bad, so as a comprimise she suggested that he become a painter of carriages. But Willem didn't want that, so he rebelled. He rather give up painting than going along with this comprimise.

Willem went to a academy for art in Rotterdam called 'Akademie voor Beeldende Kunsten' to study for a lithograph. Because he parent did'nt like that he wanted to be a painter. So that's when Willem at fourteen years old of age he become a pupil of a lithographer. He worked for the firm Zijdeman and Musly. At the academy he went to classes of lithographer and painter Robert van Eysen (a teachter in drawing, painting and design). Eysden knew Willem was a gifted painter and encouraged him.
Willem focused on drawing and he was so good that in his first year he already received a price. When he finished his study he also received the highest award. After the study he spent a lot of time in the museum Boymans, at the advise of Robert van Eysden to studie the great romantic painter B.C. Koekoek. Van Eysden also advised him to go outside to study and sketch nature. Rip did this for the next two years. When he was really good Van Eysden let him paint. Because of this kind of education Rip progresses a lot.
In 1873 Willem received his first silver medal at an exhibition in Rotterdam. Shortly after he get an royal allowance which gave him the opportunity to travel to München to study there further. With a portfolio with a lot of studies and a lot of experiences he game back to Rotterdam. Going back to the wide Dutch countryside, with the polders, windmills and waters make him feel good. Willem Rip was now at every exhibitions.

Back to top
On the 29th of November 1888 Willem Cornelis Rip married Johanna Jacomina Mooijman and afterwards they moved to The Hague.
25 year marriagephoto (taken in 1913) of Willem Rip and Johanna Jacomina Mooijman



photo Hennie Rip
The famous painters like Hendrik Willem Mesdag and Josef Israëls were regular visitors at Rip's atelier on Laan van Meerdervoort. Especially Israëls appreciated Rip's work very much. But Rip was not happy with his citylife. So when the time let him he went out to the countryside to collect motive for his oil- and waterpaintings. His preference was landscape with a lot of water with beautiful skies above.

Back to top
Rip had an impressive list of awards. Also the royal family of the Netherlands bought several paintings of Rip. During the Second Worldwar the Germans took two paintings, which was hanging in the public museum of The Hague, and one is still missing. A lot of Rip's work was sold to Americans, where the Dutch painting was very popular. In London was even a special exhibitions for Willem Rip, he sold 32 of 50 pieces. According to experts Rip's waterpaintings was as good as the paintings of some famous painters like Jacob and Willem Maris, Weissenbruch and Gabriel. Rip received lessons from Willem Roelofs.

Back to top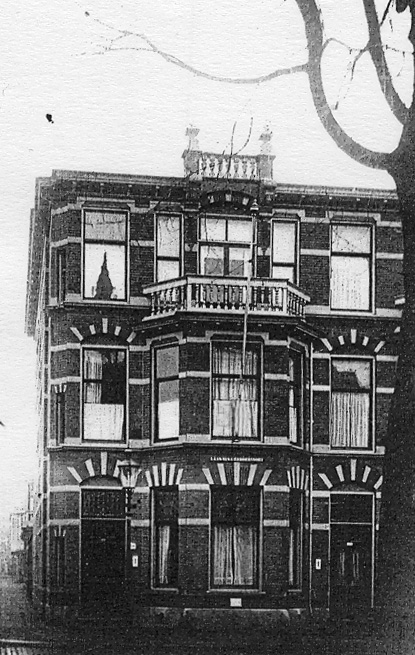 Laan van Meerdervoort nr 286, anno 1913 foto Hennie Rip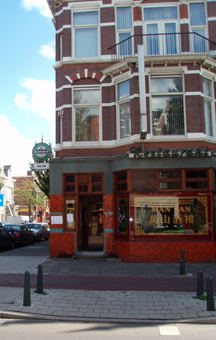 Huis Willem C. Rip anno 2007
foto Brigitte van der Winden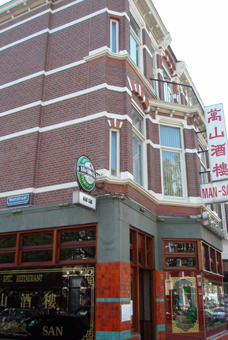 Zit een Chinees restaurant in.
foto Brigitte van der Winden
Rip was a student of the 'Akademie voor Beeldende Kunst' in Rotterdam (eveningcourse). R. van Eijsden in Rotterdam and in München C. Piloty were his teachers. He studied first for lithographer. But became quickly an independent painter of landscapes.

Back to top
Willem Rip was a faithful follower of the beginning of the Haagse School (School in The Hague). He was a member of the Pulchri Studio in The Hague.

Back to top
Lithos, drawings, oilpaintings and waterpaintings; especially landscapes, polder with canals and lakes, also townviews with windmills was very special for him. Rip was acknowledged as a gifted waterpainter, his work was impressionism. His strength was in his feeling of space and in his skies with a sun just coming through clouds. Sometimes he painted landscapes of dunes in the neighbourhood of Bloemendaal. Rip didn't want to limit himself to one area of one kind of landscape, even if the area was very beautiful. He believed that the impression of a painter has to be always fresh and that the artist has to renew himself to look for new suprising places in nature. That's why Rip was so good as a waterpainter, this medium gave him the opportunity to express his impressions fast, efficient and with simple means.

Back to top
Willem Rip had a lot of exhibits in: Amsterdam, The Hague (Kunstzaal Pictura 's-Gravenhage), Groningen, Rotterdam since 1876, enz. There is work of him hanging in Haags Gemeentemuseum, Frans Halsmuseum in Haarlem and in Limburg. He won a lot of decorations in the Netherlands and also in other countries.

1873 - Silver medal Rotterdam, Netherlands

1879 - Royal subsidy (used for his study with the painter Karl von Piloty in München, Germany)

1885 - Three yearly Rotterdam, Netherlands

1887 - Silver medal Dordrecht, Netherlands

1889 - Honorary mention Paris

1892 - Medal Scheveningen, Netherlands

1900 - Bronze medal Worldexhibition Paris

1903 - Exhibition only his own paintings in the Londen Fine Art Gallery. He got a lof of good comments and sold a lot.
1904 - Bronze medal in St. Louis, USA

1905 - Raffaëlly exhibition, Paris, two schilderijen, both sold

1908 - Worldexhibition Prague

1909 - Worldexhibition Buenos Aires, Argentina

1910 - Worldexhibition in Brussel, Belgium

1910 - Medal exhibition Santiago de Chili

after 1918 - Capetown, South of Africa

2001 - Limburgs Museum Venlo and in Maarssen, Netherlands

He had an exhibition every year at the Pulchri Studio in The Hague, also in Münich, Germany.


PURCHASE PAINTINGS:
1882 - Museum Leeuwarden, Netherlands

1899 - Museum Middelburg, Netherlands
1904 - Museum Middelburg, Netherlands

1924 - (after his death) Gemeente Museum The Hague, two schilderijen: 1 painting still-life, only one he ever painted, and one in Teylersmuseum in Haarlem, Netherlands.

Queen Emma and queen Wilhelmina bought paintings of Willem Rip. Also painters who were friends of Rip like Jozef Israëls and Hendrik Willem Mesdag bought his paintings.